I wanted to give the KWA KO EVE-9 a good workout.  I know rental players can be hesitant to aggressively engage the enemy, so I wanted to put one through the paces to see if it could "keep up" during a normal game with an experienced airsofter.  To this end, I ran it with a "rental battery" (11.1v lipo) and a "rental hi-cap" with .25g BBs.  Since we're still experimenting with full-auto rules at SAASMaine, I made the game full-auto allowed to see what the EVE-9 could do.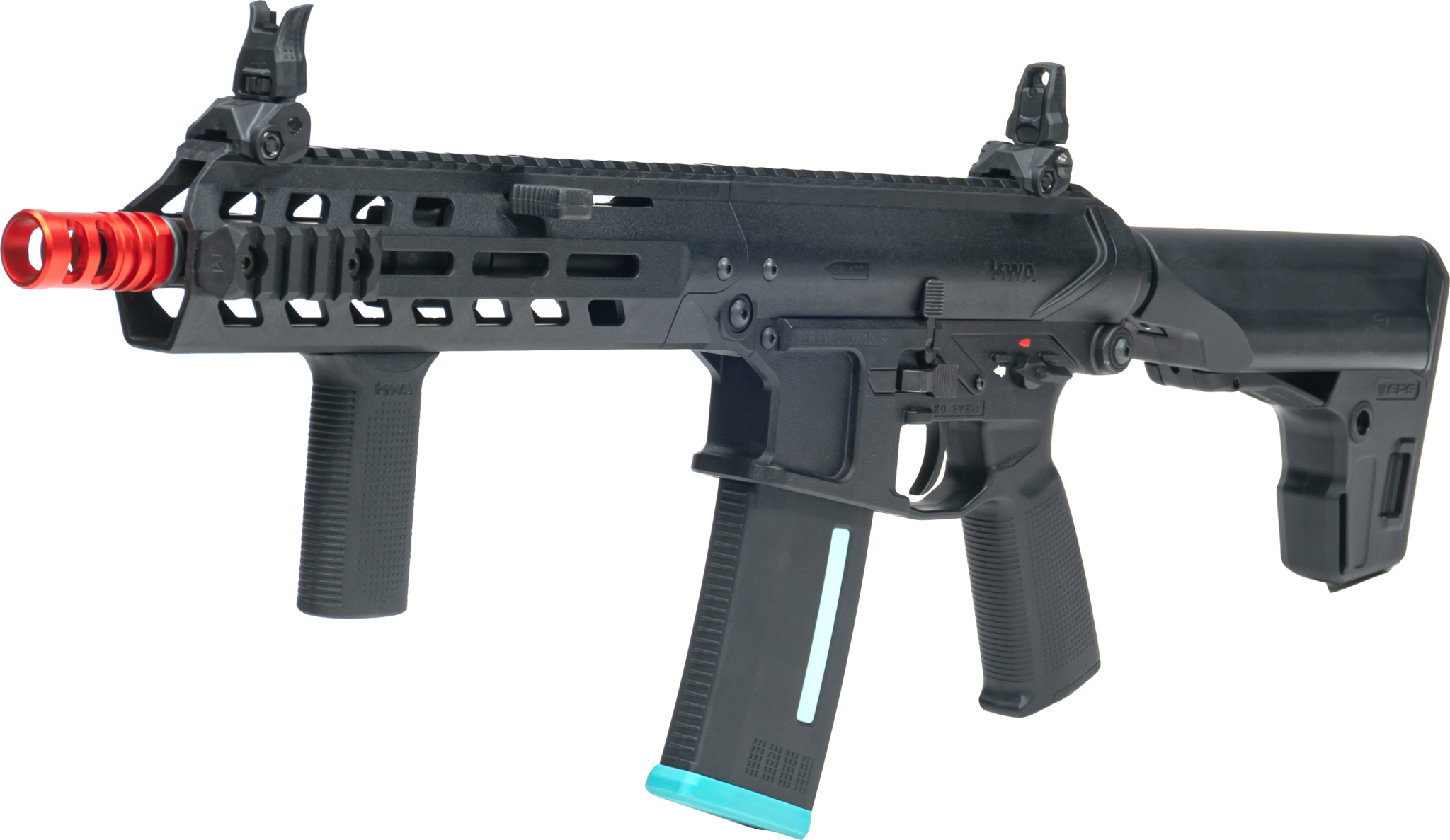 Long story short, this "plastic toy" is a beast out of the box.  I experienced zero issues with it, no misfeeds nor jams, and it responded immediately every time I squeezed the trigger.  I would spam the trigger on semi and do longer bursts of full auto and the motor didn't even get warm.  It'll be interesting to pop an M120 or M125 spring in it to see how much that will tax the stock KWA motor, but I know from experience that a stock KWA v2.5 gearbox can handle that setup no problem.
The most impressive thing about the EVE-9 is the fact that it weighs less than six pounds, not much more than a stock Mod.1, and certainly less than my Mod.1 with all the added accessories. Even though at the end of the day I had my usual sore back and knees, my shoulders were absolutely fine, because I wasn't lugging some huge heavy replica through the woods, but with a fully extended length of nearly 27", I didn't feel as though I was holding a dinky little toy.
The KO series comes with QD nubs that you can connect to either side of your new replica, but since these are rentals, I did not take advantage of those, and did eventually regret not having it slung.  I also missed the carry handle that I put on my Mod.1.  Outside of that, I have absolutely no complaints whatsoever about the EVE-9.  I also know from experience that I could pop in a stronger spring, an updated bucking and motor and have a terrifying AEG that would easily keep up with any other upgraded replica out there.
The best part is that for $256.50, you get a powerful lightweight AEG that performs out of the box.  This is a perfect replica for beginning airsofters as well as advanced airsofters.
Here's what KWA has to say about the EVE-9:
The KO:EVE-9 AEG, the longer of KO EVE, is meant to rival the T10 without the kickback of our recoil system; it is a nod back to our original Ronin 10 SBR. With improvements to the overall design and feel such as the high-strength polymer receiver set and MLOK handguard. The weight is considerably lighter and well balanced.
The side charging handle allows for convenient hop up adjustment and the integrated pistol grip is optimized for maximum ergonomics. The KO:EVE-9 comes with KO's new slim line vertical grip and maintains a sleek look with the PTS stock. PTS Enhance Polymer Sights, two port muzzle brake, ambi fire controls, and optional quick detach sockets front and rear round out the external package. Internally, the KO:EVE-9 shares the same 2.5+ VPS gearbox as the TK.45c, Ronin T6, QRF Mod Series, and Ronin 47. Install your favorite aftermarket electronic trigger group, and you have an ultra-responsive and lightweight polymer AEG with legendary KWA performance.